PUNE: The online application process for the optional Common Entrance Test (CET) for admission to Std XI (First Year Junior College or FYJC) starts on Tuesday and ends on July 26th. CET will take place on August 21 from 11 a.m. to 1 p.m.
Students will be assigned an exam center based on their address and the exam will be conducted in eight media, according to the Maharashtra State Board of Secondary and Higher Secondary Education notice.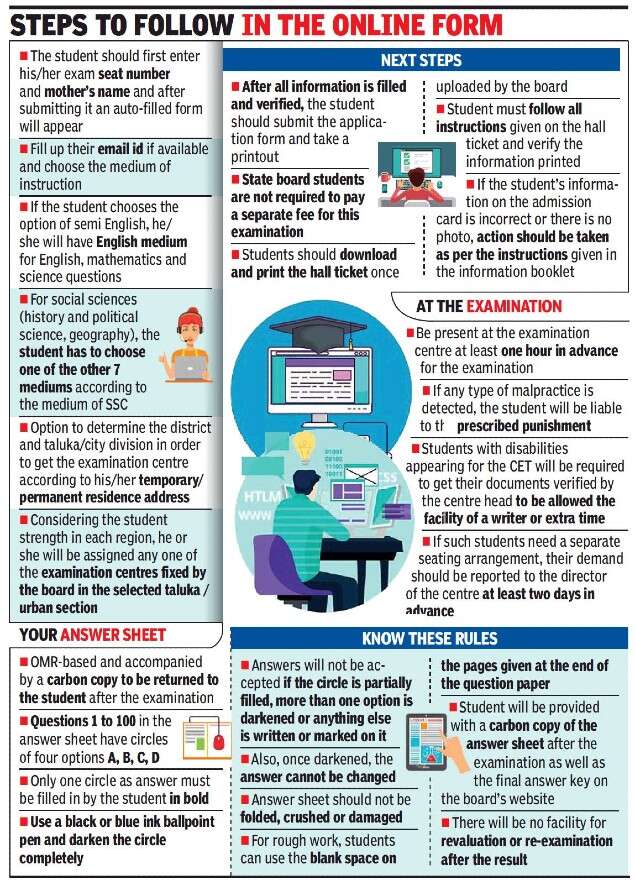 The question paper consists of multiple choice questions (MCQs) from the subjects English, mathematics, social sciences and natural sciences, each with 25 points in Optical Mark Recognition (OMR) mode.
The board has also listed the topics to be dealt with in each subject, on the basis of which the 100-point individual exam will be conducted.
It has already been stated by the government that the exam will take place offline and based on the SSC Board Class X curriculum.
While students can choose their choice of medium for the exam from the eight languages ​​(English, Marathi, Gujarati, Urdu, Kannada, Sindhi, Telugu, Hindi) prescribed by the state committee, students will be notified with half-English medium for the Mathematics, Science and English exams compulsory in the subjects English Media and Social Sciences to appear in the medium of choice indicated by the student on the application form
The education department had cut 25% of the curriculum for Std X due to Covid-19 and the subsequent lockdown.
Accordingly, no questions are asked about the omitted part of the curriculum in CET.
The thematic topics were uploaded to the board's website.
All students – the state board and others – can fill out the application form at http://cet.mh-ssc.ac.in and select the type of committee he / she was on during their hour.
Students will be given a series of instructions based on their selection that they must read and select the appropriate column before proceeding.
.

Study Books ( प्रतियोगिताओ की तैयारी के लिए किताबे )
Important Notice ( महत्वपूर्ण निर्देश )
Please always check official website before apply.
कृपया आवेदन से पहले महत्वपूर्ण लिंक्स पर उपलब्ध अधिकारिक वेबसाइट के निर्देशों को ज़रूर पढ़ें )