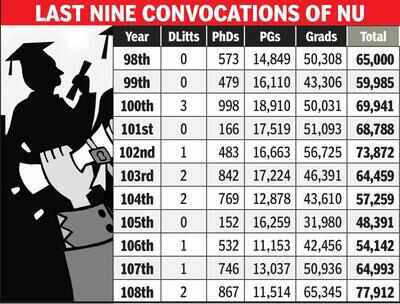 Nagpur: This coming Friday, Nagpur University will award the highest number of degrees in a decade during its 108th convocation. Approximately 77,912 college and PG students would graduate this year. At the 107th convocation last year, there were 64,993.
Vice Chancellor Subhash Chaudhari attributed the big leap to the university's online exam system and liberal assessment policy as directed by the Maharashtra government during the Covid-19 outbreak last year.
While interacting with the media on Wednesday, the VC, accompanied by Sanjay Dudhe, examiner Prafulla Sable and others, said that the ceremony would be held in the assembly hall with a limited number of people.
According to TOI, the university would present 188 medals and prizes to students in the presence of Chancellor BS Koshyari, who would virtually manage the function from Delhi.
Retired Supreme Court Justice Vikas Sirpurkar would be the main guest of the feature, which will be broadcast live on social media platforms such as YouTube, Facebook and Cisco Webex.
On that occasion, Sharad Bobde, former Chief Justice of India, would be awarded a doctorate in law (LLD).
Sable said about 70,000 students took the final exams in the summer of 2020, 95% of which passed. "The examinees had the opportunity to answer 25 of 50 questions because the entire curriculum was not covered. This was the reason for the maximum number of students who could edit the papers with ease. But now we have tightened the rules and the students have to solve 40 questions in one hour, "he said.
FacebookTwitterLinkedinE-mail
.

Study Books ( प्रतियोगिताओ की तैयारी के लिए किताबे )
Important Notice ( महत्वपूर्ण निर्देश )
Please always check official website before apply.
कृपया आवेदन से पहले महत्वपूर्ण लिंक्स पर उपलब्ध अधिकारिक वेबसाइट के निर्देशों को ज़रूर पढ़ें )