The 12th class CBSE first term board exams will be held in November. The format of this exam is Objective, MCQ response. It is important for the students to familiarize themselves with the pattern of papers, how to pace their exam and the weightage given to various subjects within CBSE 12th Syllabus 2022. Also, considering the uncertainty of the online vs offline exam, students need to know that they are comfortable with answering the paper in any format. Here are some general pointers to help you prepare for the first CBSE 12th exam.
Stay updated with CBSE class 12th news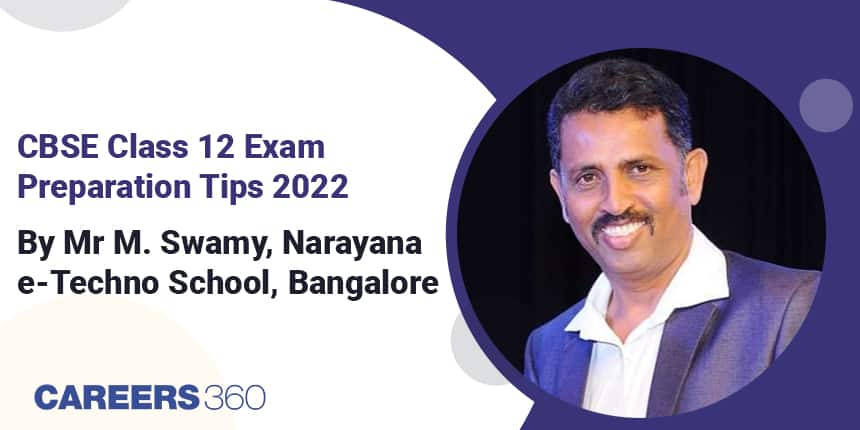 map a strategy
List the topics and chapters clearly for your first semester syllabus before starting your preparation. Go through the CBSE guidelines and list down the subjects in the order of weightage given in the guidelines. Allocate maximum time to study and practice the chapters with more weightage and revise them more often closer to the exam.
This strategy will help you with your time management and maximize your chances of scoring high. Before starting a chapter, always cross-check with your list. If the chapter has more weightage then continue, if not then finish the high weightage topics first and then come back to the low weightage topics.
enhance concept-based understanding
Focus on understanding the basic concept behind each chapter. If you master the fundamentals, it becomes possible to score more than 90%. Once you have learned a concept, learn to apply it by practicing case-based, reasoning and assertion-based questions. Try to solve as many questions as possible while practicing. Understand the framework of the question and how it relates to the concept. Note down your errors so you can learn and don't make the same mistakes again. Practicing different types of questions is important as it ensures that you can answer any question that comes up during the board exam.
set daily goals
A well-planned timetable with clearly defined goals gives you a definite edge to excellence. While setting the timetable, understand that you may overestimate your potential in the beginning. Don't worry if you fail to meet the target initially. Observe your own behavior, figure out the pace of your study, and quickly revise goals to what is practical for you. If you are organized, you will know how to set the right goal within a week. Once you know your limits, make sure you have achieved your daily goals. It will also give you a huge psychological boost and make you more confident.
Textbooks and Guides
Do not complicate your preparation by referring to multiple textbooks and guides. First of all focus on NCERT books and NCERT textbooks. Go through the NCERT books and examples thoroughly for both concepts and practice questions. Once you feel confident that you've mastered it, turn to another good reference book prescribed by your school or teacher for additional practice.
Make Revision Notes
Keep separate notebooks for concepts, definitions and fundamentals such as theorems, formulas and methodologies. This will help you to revise the concepts quickly and efficiently during the last few days before the exam.
Teachers' guidance during revision
Make sure you set aside at least 8 to 10 days for the final revision in your study plan. Be attentive to your classes till the last day, pay attention during lectures and don't hesitate to ask your doubts. There is no substitute for the teacher, his guidance can help you succeed in the exam.
While conceptual preparation is important, it is also important to know how to answer board exam papers, so that you can avoid unnecessary panic. Some points to keep in mind are listed below:
no negative mark
There is no negative marking for this board exam. So, attempt the questions with confidence.
Extra circle on OMR sheet
For offline test takers, apart from filling the answer in the OMR sheet, there is an option to cancel one answer in favor of the other using TMR (Text Mark Reader) technology*. This is an additional blank circle next to each reaction. Students get an opportunity to change their answer in the OMR sheet and mention the correct option in the text above it. Revised answer will be considered for correction. This is the first time that CBSE has introduced this option. Using this, a student can cancel the previous answer and replace it with a new one for a given question.
While this gives you a chance to rectify a mistake, be careful and get as many answers right on the first attempt as possible. Use this option of changing the answer only while revising the paper at the end and if you are sure that changes are needed.
*This concept of extra circle option can be explained more accurately when CBSE provides complete clarity on the same point.
be worry free
Don't worry too much about the exam. Trust your preparation and solve each question with a clear mind. Read each question slowly and understand what is asked. This will ensure that you get the correct answer most of the time. Mistakes only happen because of haste and panic.
Lastly, remember that there is no substitute for teachers' guidance, sincere effort and hard work with a well-planned strategy. If you have covered all three in your preparation, then you are bound to excel in your examination.
Wishing you all the very best.
Study Books ( प्रतियोगिताओ की तैयारी के लिए किताबे )
Important Notice ( महत्वपूर्ण निर्देश )
Please always check official website before apply.
कृपया आवेदन से पहले महत्वपूर्ण लिंक्स पर उपलब्ध अधिकारिक वेबसाइट के निर्देशों को ज़रूर पढ़ें )