Securities and Exchange Board of India (SEBI) is a reputed organization where thousands of candidates from all over the country are expected to be associated in professional capacity. If you also want to work with SEBI as Grade A Officer, then you need to work in such a way that you can prove your worth and stand in front of thousands of applicants.
if SEBI Grade A 2022 This is going to be your first attempt, you will find this blog very useful. If you want to make sure you get it done on your very first try, we have specially prepared for you some tips and ideas to follow. Read on to find out how you can do this!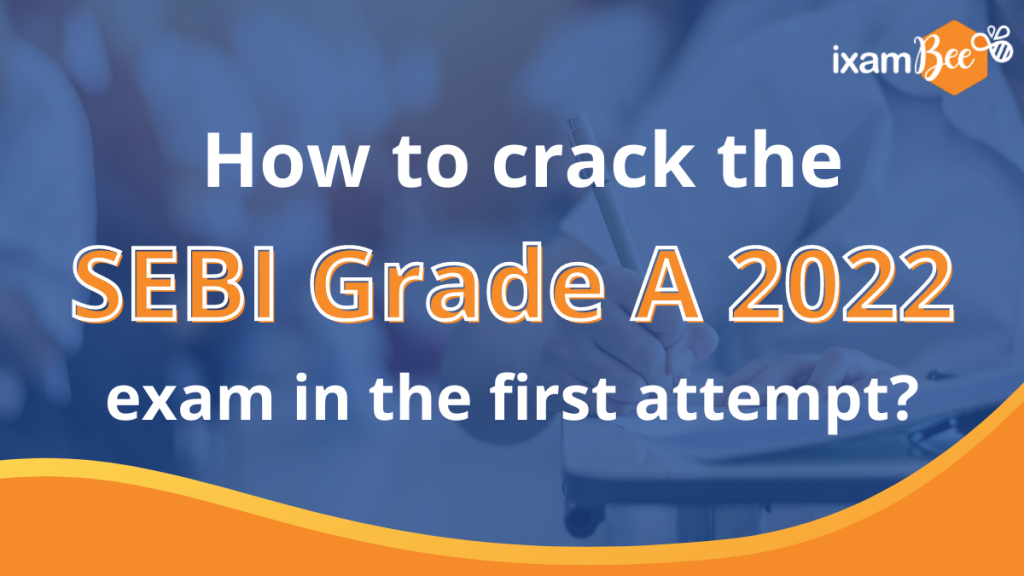 Can I clear SEBI Grade A 2022 in my first attempt?
First things first, we have to get the elephant out of the room. To answer the above question, Yes absolutely can!! While all this may seem quite overwhelming initially, there is no reason why you can't crack the exam on your first attempt if you set your mind to it.
where do i start?
Before you actually start your preparation, you should do your background research about SEBI Grade A exam properly.
take a look at eligibility criteria To know whether you are eligible to appear in this exam.
review full syllabus properly so that you can plan your preparation strategy accordingly.
Study Exam Pattern In detail. How many stages will the candidates have to go through before they are finally selected? Are interviews also conducted? How many written letters are there?
Gather your resources. Which books would you refer to? Will you join coaching class? Will you study by yourself?
Reading: How to crack SEBI Grade A 2022 without coaching?
SEBI Grade A Previous Years Question Papers
We always advise the candidates to start their preparation by looking at the previous few years question papers. Especially, if this is your first attempt, you need to review them more than anyone else. Once you have studied these papers, you will develop a fair idea about your preparation.
SEBI Grade A Phase I Previous Year Question Papers
SEBI Grade A Officer Phase II Paper 2 Previous Year Paper
Tips from our subject experts
To help you make your dream come true, our faculty members have shared some invaluable tips that you can use during your preparation.
For Quantitative Aptitude, The expected number of questions is:
Part 1) DI: 2 Sets 8 to 10 Q
Part 2) Series or Simplification or Quadratic Equations: 3 to 5 Questions
Part 3) Arithmetic: 6 to 8 questions
For Arithmetic questions within Quantitative Aptitude, some easy topics are Age, Partnership, Percentage, Time and Work.
You need to clear your basics for English language assessment through Practicing grammar rules and exceptions.
Time your practice practice.
extensive reading– Books / Newspaper / Blog / Social Media and note down new words.
For Phase 2 of General Section, you will have to cover core concepts related to Commerce, Accounting, Management, Finance, Cost, Companies Act and Economics. These need to be done long before the exam.
Regular MCQ Practice And at least 3-4 revisions before the actual exam.
try the Connect current affairs with concepts.
at least 4 months' ca magazines (6 months recommended).
GA may have short questions hence the need to cover all the information page by page.
Finance news should be given special attention.
In SEBI, there is a dedicated section for Finance & Banking, and Economy.
Concepts are also asked in Phase 1 GA. Hence, overall preparation of both the phases will be beneficial.
Static GA questions are on the rise these days, so these also need to be covered properly.
For finance, Focus on thoroughly understanding the capital market and its various components be it various financial instruments, derivatives, mutual funds and risks. Be aware of what is happening in the financial world. Try to understand and absorb more of the news along with the conceptual clarity of the words.
For ManagementStart thinking like a manager. Read the principles and basic terms in management. And then read and practice lots of situational MCQs. Management can be studied as 2 parts – one is factual things which are about principles and styles and development of certain principles while the other part is logical thinking which will help in decision making and management. The first aspect can be studied once and then revised regularly while the second aspect requires thinking and practice.
SEBI Grade A Mock Test
It is important that you regularly and religiously take SEBI Grade A Mock Test Evaluate your situation from time to time. This will let you know how far you are in your preparation and what else you should do.
SEBI Grade A Officer Phase 1 Mock Test
SEBI Grade A Officer Phase 2 Mock Test
SEBI Grade A Online Syllabus for 2022 Exam Preparation
If you want a surefire success in SEBI Grade A 2022 Exam, join with ixamBee. Our SEBI Grade A Exclusive Online Course Will train you for every stage of the selection process. Some of the features of this course are:
600+ Video Lessons & 300+ Study Notes
25 Full-Length Mock Tests for SEBI Grade A Phase I
5 Full-Length Mock Tests for SEBI Grade A Phase II
5 Descriptive English Mock Tests
14,000+ practice questions covering all the new topics/topics introduced in SEBI Grade A Exam.
Daily Live Online Classes
Guidance for Interview Round
Live classes by expert faculty
face-to-face meetings with faculty
If you are preparing for one of these specialist officer exam, We have separate courses for them as well.
SEBI Grade A IT Officer Exclusive Online Course
SEBI Grade A Legal Exclusive Online Course
SEBI Grade A Research Exclusive Online Course
some other tips
Take mock tests as often as possible, preferably every 15 days.
Devote every alternate weekend to interview preparation. Do not take the interview round lightly. It can make or break your entire result. For this, you should work on your body language, communication skills and articulation. Additionally, you must have a fair idea of ​​why you would make a good candidate for this job.
SEBI Grade A Interview Preparation Syllabus
For General Awareness, ixamBee's BeePedia is the holistic study resource you need. It covers all the aspects of current affairs in a crisp format. Bipedia is also available in Hindi.
Take any one day of the week completely off. Use that day to relax and rewind.
We hope that you have found our article useful. If you have any questions or comments, please feel free to write to us!
Team ixamBee wishes you success!
read also
SEBI Grade A 2022: Start your preparation today!
SEBI Grade 'A' Phase II English Descriptive Paper
SEBI Grade A Preparation Strategy for Phase 1 (Paper 1 & Paper 2)
How to prepare for SEBI Grade A Interview?
Study Books ( प्रतियोगिताओ की तैयारी के लिए किताबे )
Important Notice ( महत्वपूर्ण निर्देश )
Please always check official website before apply.
कृपया आवेदन से पहले महत्वपूर्ण लिंक्स पर उपलब्ध अधिकारिक वेबसाइट के निर्देशों को ज़रूर पढ़ें )