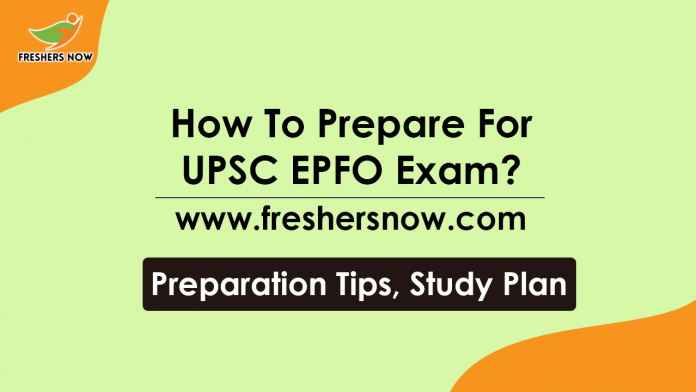 How to prepare for UPSC EPFO ​​Exam? Preparation Tips, Study Plan? Do you want to crack UPSC EPFO ​​Exam? Then you should have a look at this page. To know about UPSC EPFO ​​Preparation Tips, UPSC EPFO ​​Study PlanBest Books for UPSC EPFO ​​Exam. This article contains important information about Latest UPSC EPFO ​​Exam Pattern, How to crack UPSC EPFO ​​Exam? Including UPSC EPFO ​​Exam Preparation Strategies etc. So, check the below sections of this page to get more details.
How to prepare for UPSC EPFO ​​Exam? Preparation Tips, Study Plan
How to prepare for UPSC EPFO ​​Exam? Preparation Tips, Study Plan?
Name of Institution
Union Public Service Commission (UPSC)
post name
Enforcement Officer / Accounts Officer (EPFO), Ministry of Labor and Employment
Category
Preparation Tips
stages of recruitment

Phase I- Written Exam
Phase II -Interview

Location
all over India
official site
upsc.gov.in
What is UPSC EPFO ​​Exam?
UPSC EPFO ​​exam will be conducted in offline format to recruit candidates for the posts of Enforcement Officer (EO) and Accounts Officer (AO). So there will be two phases i.e. Phase I will be a written test, and Phase II will be an interview. UPSC Accounts Officer Written Exam 2021 is a paper and pen-based exam with MCQs (Multiple Choice Questions) on various subjects.
Is UPSC EPFO ​​exam tough?
Every competitive exam will be challenging. However, everything goes well with enough planning and preparation. If a man wants something, he should systematically try for it. Similarly, it will be difficult to crack UPSC EPFO ​​exam due to high level of competition. This article is designed to help the UPSC EPFO ​​AO and EO aspirants. So watch this entire article till the end.
Latest UPSC EPFO ​​Exam Pattern
UPSC EPFO ​​Phase I
The Recruitment Test (RT) will be an offline (pen and paper) test with objective multiple choice questions (MCQs).
step name
name of exam
Importance
Phase 1
Written Test (PPT)
75%
Phase II
Interview
25%
Total
100%
The exam will last for two hours
The exam will be available in both Hindi and English
The exam will be of 300 marks
All questions will be classified equally.
1/3 mark will be deducted for wrong answer.
UPSC EPFO ​​Phase II
Candidates who obtain qualifying marks in Phase I will be called for Phase II Interview.
UPSC EPFO ​​Interview
phase 2
Mark
Interview
100
UPSC EPFO ​​Exam Syllabus
Before appearing for any competitive exam candidates must go through the syllabus. Candidates can split UPSC EPFO ​​AO & EO Syllabus and start their practice with a general concept of it. So, let us check the UPSC EPFO ​​Phase I subject-wise syllabus.
Serial Number
Subject
Subject
1
general English

vocabulary usage
Grammer
understand,
Synonyms
Antonyms

2
Indian freedom struggle

Revolt of 1857 – First War of Independence against the British Causes of the Rise of Indians
National Movement
Indian Nationalism – Liberal Phase
Morley-Minto Reforms
Partition of Bengal 1905
Swaraj Party
First Round Table Conference 1930
Poona Pact
Quit India Movement
Indian National Movement – Extremist Era
Important Indian Freedom Fighters
Revolutionary in Indian Independence Movement
The Rise of Gandhi in the Indian Freedom Struggle
Rowlatt Act and Jallianwala Bagh Massacre
Lucknow Pact, 1916
Non-Cooperation Movement
home rule movement
Salt Satyagraha
Moplah Rebellion of 1921
Simon Commission
Indian National Congress session
Indian Independence Act of 1947

3
Indian Politics and Economy

fundamental duty
Governor and his functions
state legislature
Major constitutional amendments and their importance
official language
emergency provision
Supreme court; meaning of writing
President's election and his functions
Important constitutional bodies like CAG
facts about parliament
National political parties and their symbols

4
Current events and developmental issues

Current Affairs (National & International)
Play
state animal and emblem
Name of the scientist who got Nobel Prize for important discoveries
important day
Awards and their importance
Politics
Finance and Banking Sector
Census
Important Books and their Authors
Important Inventions and Their Inventors

5
general accounting principles

dual aspect anxiety
cost concept
accounting period concept
matching concept
compatibility
perception concept
separate entity concept
going concern concept
money measurement concept
full disclosure
conservatism
materiality

6
Industrial Relations and Labor Law

types of labor law
Applicable Areas
applicable area
Overview of Labor Laws
Industrial Relations Code (IRC) Bill
Model of labor reforms.

7
Knowledge of general science and computer applications

the biology: Important and interesting facts about human body parts, nutrition in animals and plants, diseases and their causes like bacteria;
Chemistry: Chemical properties of matter and their uses, Chemical names of important substances like plaster of paris etc. Chemical changes and physical changes, Properties of gases, Surface chemistry, Chemistry in everyday life.
Physics: SI units, motion, sound, light, wave, energy, electricity.
Daily Science: computer development; input and output devices; Memory; MS Office; Internet.

8
general mental ability

blood relation
guidelines
phrase
seating arrangements
puzzle test
statement and conclusion
sequence of data
Chain
statement and conclusion
data sufficiency

9
Quantitative Aptitude

simple interest
Compound Interest
Profit and Loss
time and work
time, speed and distance
problems with age
calendar and clock
Possibility
Permutations and Combinations
algebra
HCF and LCM
Average
mix and combine
Ratio and Proportion
Partnerships
Percentage and its Application

10
social security in india

Status of Social Security in India
Social Security Schemes for the Unorganized Sector
Employees State Insurance Corporation (ESIC)
Atal Pension Yojana (APY)
Pradhan Mantri Jeevan Jyoti Bima Yojana (PMJJBY); Pradhan Mantri Suraksha Bima Yojana (PMSBY)
New social security schemes covering social insurance like pension launched
Health insurance and medical benefits
Disability Benefit, Maternity Benefit
Gift
Employees Provident Fund Organization (EPFO)
Pradhan Mantri Kisan Samman Nidhi (PM-Kisan) Scheme
Pradhan Mantri Kisan Maandhan Yojana etc.
How to crack UPSC EPFO ​​Exam?
Here are some of the most basic, yet effective strategies to crack the UPSC EPFO ​​exam. Read the sources available online. Watching daily blogs, articles and newspapers or news will help you a lot. Make sure you have a plan in place to use your knowledge properly. In addition, create a schedule that includes daily, weekly and monthly goals for completing the course and utilizing the time. We would say, stick to one source. Check previous question papers and keep solving them in the meantime UPSC EPFO ​​exam preparation. Begin by dividing the course into two sections. Similarly list your strong and weak areas. In this way one can easily manage their time.
UPSC EPFO ​​Preparation Tips
Make a proper study plan. And make a list of important topics from each subject.
Topic-by-topic preparation The easiest strategy to study for competitive tests is to sort through all the topics and prepare for each one individually.
Each person's skill will vary, for example, one person may be able to cover at least one subject from each subject for one hour, while another person may take three to complete one subject entirely. Can sit for days. Know your skills for a wise UPSC EPFO ​​Exam Study Plan.
Week after week, pay attention to everything you read. Taking mock tests or practicing test series helps to estimate yourself.
Investing in good studies will help you prepare for a wide variety of questions.
Studying till the last minute will lead to stress, fatigue and nervousness. So, don't go for it. We suggest you to choose the exam syllabus and assess your level of familiarity in each part before making your study plan.
Strategies for UPSC EPFO ​​Exam Preparation
There will be a general strategy for any competitive exam. It is a practice rule to go through the previous year exam papers of UPSC EPFO ​​exam. It will improve your ability to understand the questions and answer them appropriately.
A mock test will boost your confidence in answering the questions and help you determine the time required to answer each question.
This regular practice of mock exams can help in boosting your confidence while taking the final exam.
It is recommended to take mock tests every month at the beginning of the preparation process followed by one or more mock tests per week. It helps in consolidating several areas and provides an overview of the preparation phase.
It is necessary to maintain a notebook for daily revision. Make a list of the most important points from each topic, which will help you in future.
Your notebook or notes should be understandable. As a result, even before the exam, you can skim and scan all the relevant topics.
Best Books for UPSC EPFO ​​Exam Preparation
Books, as we all know, are always available resources for exam preparation. However, the strategy will be in the selection of relevant books for that exam. We have gathered a list of books that you can use to prepare for the UPSC EPFO ​​exam. Just have a look.
Best Books for UPSC EPFO ​​Exam General English
name of the book
author name
High School English Grammar and Composition
wren and martin
objective general english
SP Bakshi
Best Books for UPSC EPFO ​​Exam Indian Freedom Struggle
name of the book
author name
India's struggle for independence
Bipan Chandra
Modern Indian History – NCERT XII
Bipan Chandra
Best Books for UPSC EPFO ​​Exam Current Event and Development Issues
name of the book
author name
Current Affairs Annual 2020
–
Best Books for UPSC EPFO ​​Exam Indian Polity and Economy
name of the book
author name
Contemporary World Politics
–
Indian polity
M Lakshmikanto
UPSC EPFO ​​Exam Best Books
name of the book
author name
Industrial Relations and Labor Law
Dr. Nikita Agarwal
social security in india
Ravi Prajash Yadav
Accounting Class 11th & 12th (General Accounting & Principles)
–
Encyclopedia for General Science and Handbook for Computer Science and IT (Knowledge of General Science and Computer Applications)
–
Quantitative Aptitude (Mental Aptitude and Quantitative Aptitude)
Abhijit Guha
Tips to follow in UPSC EPFO/AO Exam
Organize your time
do not hesitate.
Start by answering simple questions.
Later, you can return to the difficult questions.
Focus on accuracy and speed.
Try to answer all the questions.
The key is to choose which questions to attempt.
Choose your questions carefully. Which questions should be answered and which questions should be left out.
Read the questions twice and then answer them to have a good understanding of what they are asking.
It is not a good idea to allow other objects in the exam hall to distract you while taking the exam.
If you want to know more about UPSC EPFO ​​exam preparation, you can keep following us freshersnow.com.
Crack TCS NQT with best syllabus and faculties. Learn everything for TCS NQT at your own pace with 1-1 Live Doubt Support.

Click here
Study Books ( प्रतियोगिताओ की तैयारी के लिए किताबे )
Important Notice ( महत्वपूर्ण निर्देश )
Please always check official website before apply.
कृपया आवेदन से पहले महत्वपूर्ण लिंक्स पर उपलब्ध अधिकारिक वेबसाइट के निर्देशों को ज़रूर पढ़ें )