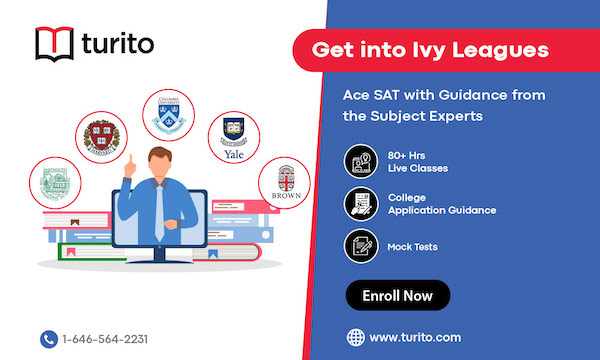 The whole process of exam preparation for exams like SAT and ACT can be quite a chore – not just for the students, but for the parents as well.
Starting the test prep, which includes building confidence in the subject, taking practice tests, and step-by-step instructions can be challenging. The right prioritization of the tasks to be done first becomes the order of the day. Students and parents lose orientation and focus because of these difficulties, which occur almost all at the same time.
Time management, the right way to prepare for exams, is not the only major hurdle. To get into top schools and Ivy League colleges like Stanford, Harvard, and Yale, a higher SAT score is quite necessary, but it's just the beginning.
Students must submit a compelling overall application and profile to increase their chances of entering the Ivy Leagues. The general skills, preferences and choices for applying to college vary and they require a bespoke program that provides bespoke guidance for exam preparation. To learn more about Turito, click www.turito.com.
After spending time in exam preparation and achieving a desirable score, parents and students still have a lot to do in terms of profiling, college application, and self-confidence – and that requires dedicated guidance. Turito understands these challenges and aims to fill the current gaps in the field of high quality learning and education.
Turito is a versatile e-learning platform that also provides exam preparation for students preparing for SAT, ACT, and Foundation courses. But the company not only focuses on achieving higher scores, but also on providing professional support up to the dream entry into the Ivy League.
To learn more about the SAT program, click https://bit.ly/3r46j7X and, about the ACT program, click https://bit.ly/2TZH9Lp.
According to the vision of the founder Mr. Uday Reddy, which states:
"I envision delivering imaginative academic excellence to each student through an ideal combination of experienced tutors and technology with a bespoke curriculum. My ultimate goal is to create a level playing field on which every student can have a comprehensive learning experience that increases the chances of getting accepted into the Ivy League. I firmly believe in preparing the students much earlier in order to make their journey without hurdles. "
Turito is your ultimate gateway to the Ivy League with live interactive courses taught by expert instructors who are dedicated to developing students' academic skills. The platform features the top 2% of leading faculties who are very committed to providing timely guidance to students to shine on their career chart.
With a strong belief in problem-free learning, the company also offers the two-teacher model, which ensures students clear their doubts during class. In today's world of convenience and virtual learning, Turito offers personalized learning where the student can learn at their own pace by accessing the coursework.
A bespoke curriculum and carefully crafted study material are also offered for the students to achieve better results in SAT, ACT, and Foundation courses as well. Practice tests are very important to pass the competitive exams and Turito clearly understands their importance. Turito's courses offer access to the practical tests and are designed exclusively for each student to meet their individual needs.
Get an exciting discount on the SAT preparation course, register today at https://bit.ly/3r46j7X or call us at 1-646-565-2231.
With their busy schedule and too many things to worry about, parents struggle to know their child's progress during prep time until they are accepted into the dream school / Ivy League of their choice. The Parent Tracking App is a unique initiative by the company to keep parents updated on their child's progress in detail.
The company aims to give students a high level of confidence as they write their SAT, and by guiding students in the early stages of their educational journey, it greatly improves their chances of getting into the Ivy League. Turito aims to provide a strong foundation for students themselves in the early stages – to keep them and parents stress-free at the time of exam and college applications.
Counseling services in the US are particularly expensive and many parents cannot think of choosing them – because they cost a lot of money. Turito also addresses this problem by providing professional advice to students not only to boost their confidence and help them achieve the ultimate goal – the Ivy Leagues.
Together with the instructions for exam preparation, the exquisite team of experts at Turito ensures that you create the best profile and create a fantastic application that offers the right starting point for a fulfilling career. With years of experience and success stories in gaining Ivy League admission for hundreds of students, the experts make the path to college admission a lot easier. As they say, the timing of tasks can make or break a career. Turito is heavily focused on providing valuable insights and guidance to students by providing them with all the tools they will need to take the exam and get into the Ivy League.
The company is currently pleased to offer a 20% discount on its exclusive SAT course, from which students can benefit a lot. Seize this unique opportunity to make the challenging work of SAT preparation and college admissions effortless. To take advantage of the discount, register at https://bit.ly/3r46j7X or call us at 1-646-565-2231.
Turito takes the student on a journey from passionate aspirant to high achiever – with his passionate vision of making learning an enjoyable experience. It has developed the art of exam preparation with conscientious research and with tutors who are committed to making the entire admission process free from obstacles.
Content produced by Indian Clicks, LLC
Study Books ( प्रतियोगिताओ की तैयारी के लिए किताबे )
Important Notice ( महत्वपूर्ण निर्देश )
Please always check official website before apply.
कृपया आवेदन से पहले महत्वपूर्ण लिंक्स पर उपलब्ध अधिकारिक वेबसाइट के निर्देशों को ज़रूर पढ़ें )