The 10 Best Self-Learning Language Apps to Improve Your Communication Skills
summary
Mastering a new language opens up career opportunities at home and abroad
Asian, European and African languages ​​can be learned through self-learning language apps
Where to learn foreign languages: courses, institutes and job opportunities
Got stuck under lockdown rules as the pandemic bit into your routine? But there's a silver lining in every cloud – you can use the time and your phone or tablet to learn new languages. A new language learned through self-learning apps not only provides an exhilarating thrill, but brings the world into the palm of your hand and opens up a wealth of social and professional opportunities for you.
Here are the 10 best language learning apps that can expand your world:
Chat
Keeping up with new technology, this app allows you to learn a language from the comfort of your location through podcasts, online tutoring, and live sessions. It offers classes from academics from renowned global institutes such as Yale University and Michigan State University and prepares you for real conversations with native speakers in just three weeks. The app allows you to learn the basics of Spanish, French, German, Italian, Portuguese, Russian, Danish, Dutch, Indonesian, Norwegian, Polish, Swedish and Turkish languages.
Bhasha Sangam
Under the Ministry of Education, MyGov India and supported by Multibhashi, Bhasha Sangam is a core initiative of the # EkBharatShreshtBharat campaign. Here you can enjoy personalized lessons based on your accuracy in answering questions. With the app you can learn Assamese, Bengali, Gujarati, Kannada, Kashmiri, Konkani, Malayalam, Manipuri, Marathi, Nepali, Odia, Punjabi, Sanskrit, Sindhi, Tamil, Telugu, Urdu, Bodo, Santhali, Maithili and Dogri.
drops
Long theoretical classes and lectures are a headache for most of us. But this app is fun to explore as it teaches a new language with the help of short illustrative play patterns. Here you can build up your vocabulary in more than 15 Asian, European and African languages ​​such as Arabic, Cantonese, Croatian, Danish, Finnish, French, German, Hebrew, Hindi, Hungarian, Italian, Persian, Swahili, Thai and Vietnamese.
Duolingo
With over 500 million registered users, Duolingo is one of the world's most downloaded apps for learning a new language. It includes short videos and fun learning activities that will help you read, write, communicate, and understand a new language in no time. It's an absolutely free app, and you don't need a paid subscription for the lessons. Here you will learn more than 40 languages ​​such as Spanish, French, German, Portuguese, Italian, Irish, Dutch and Danish.
FluentU
The best way to build your taste for new languages ​​is to use words from these in real-life scenarios. Based on the same principle, FluentU offers real contexts and videos so that you can master a new language. From music videos to motivational interviews, this app makes your language learning process easy and fun. Here you can learn German, Japanese, Italian, Korean, Russian, Portuguese, Chinese, Spanish and French through fun videos.
Language curry
This app makes learning Indian languages ​​exciting as it uses interesting playful learning, vocabulary techniques on flashcards and live online videos. You can also take live classes from Indian language gurus and learn all about the country's rich cultural heritage. Languages ​​such as Hindi, Punjabi, Gujarati, Kannada, Sanskrit, Tamil, Marathi, Telugu, Bengali and Malayalam are offered here.
LinguaLift
LinguaLift prides itself on being a hybrid innovative language learning system. Once registered, you will receive a tailored language learning roadmap, including a schedule based on the total number of hours you can devote and your preferred approach to that language. If you get stuck while practicing, you can always contact an online tutor. With self-practice activities, short tutorial videos, and online sessions, you can easily learn languages ​​such as Japanese, Hebrew, Russian, Spanish, and French.
Memrise
Learning dialects is one of the most important steps in learning a language. Memrise's user-friendly navigation makes it easy for you to access videos and audio clips of local dialects. Here you can see how ordinary people talk to each other in a different language in everyday life and prepare accordingly. You can learn languages ​​such as Japanese, Korean, Chinese, Turkish, Mongolian, and Slovenian through the app.
Mondly
With around 33 languages ​​to choose from, this app allows you to learn more than one language at a time by saving your progress. Equipped with free daily lessons to keep you connected in the language of your choice, it's one of the fastest ways to learn a new form of expression. Urdu, Latin, Turkish, Thai, Persian, Hebrew, and Polish are some of the languages ​​that can be learned through the app.
Rosetta Stone
This interactive app offers contextual learning units combined with external learning functions. All details, information, exercise sheets and other relevant documents are also available offline so that you can practice at any time. The app also comes with an ad-free feature that eliminates any unnecessary distractions. Here you can learn languages ​​such as Spanish, French, Italian, German, English, Arabic, Chinese (Mandarin), Dutch, Filipino and Greek.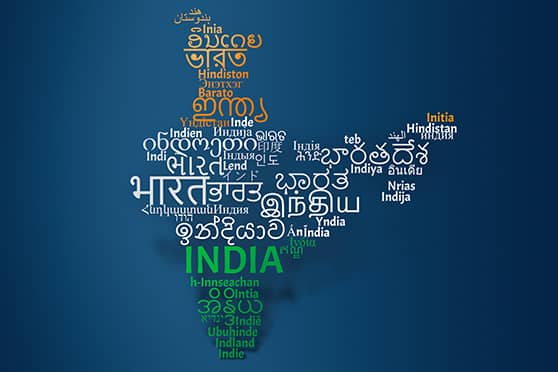 Where to learn Indian languages: courses, institutes and positions
Last updated on January 6, 2022
नीचे दिए गए लिंक को क्लिक करे और Government Recruitments – Study Guide and Study Tips की ताज़ा खबरों से जुड़े रहें |
भारत माता की जय |